My first user-centred design project when I and my colleague Egle explored different ways to develop a new product and established distinguish clothing brand.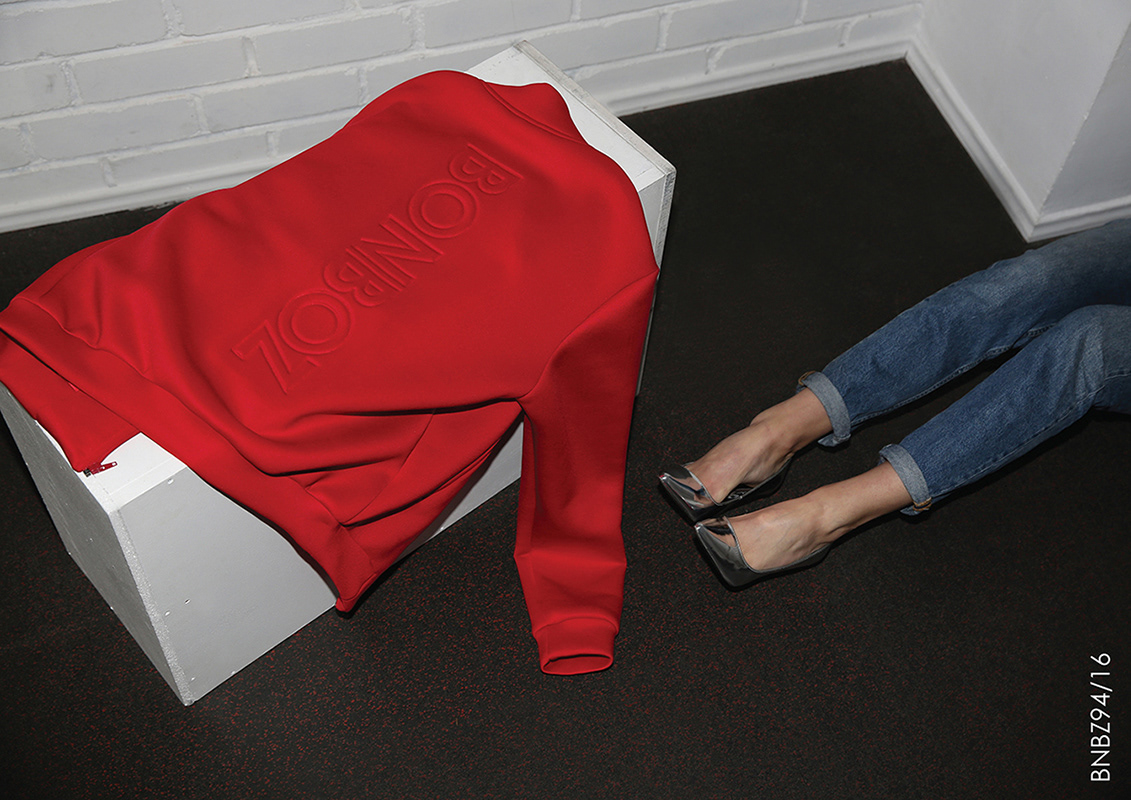 Back in 2016, we have noticed that Lithuanian consumers were exhausted from all the new design brands which were founded and disappearing every week. They were prompted to consume more and more in the way to support Lithuanian design development.
After talking with some consumers and well-established brand owners, I and my colleague Egle noticed an opportunity to challenge the market.
We set a goal to collaborate with local businesses and create more innovative, better quality clothing.
  • Coordinate discovery session.
  • In collaboration with my team produce different prototypes to translate design decisions to developers and remove risks. 
  • Negotiate with stakeholders to produce high-quality products in the most efficient ways.
  • Conduct rapid usability testing to improve the final product and remove any risks.
  • Design and develop a distinguished brand identity, packaging and other various visual specifications.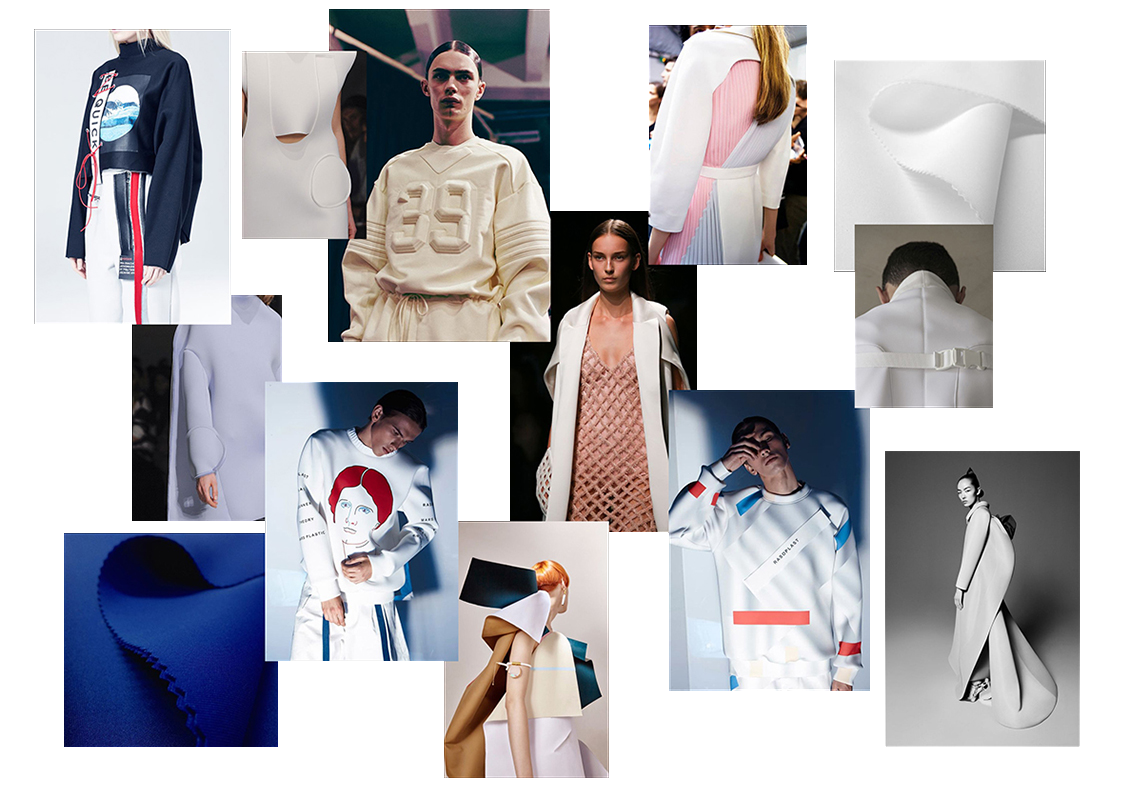 We sat down and started to sketch the first ideas what product we should design. By that time I was very interested in neoprene material, so we have decided to look for some inspiration and explore opportunities with this material. 
After some research, we have decided to design a bomber jacket but still did not know how it could be different from all the bomber jackets in the market. We conducted a competitive analysis to find out what other clothing brands are creating with this material. While we were checking many other designer works, my colleague Egle discover old jacket with embossed words on the chest. We decided to tweak this idea and make embossing logo on the back. After a Eureka moment and with the final idea in our minds we decided to try to make embossing design detail on my old jumper. We used home iron and almost burn the whole house, but managed to find out that neoprene is not easy going material and we need professional help. 
We have conducted extra research to find out more about material and Lithuanian companies which could offer embossing service. In the meantime, we tried a few different ways to make similar to embossed design detail.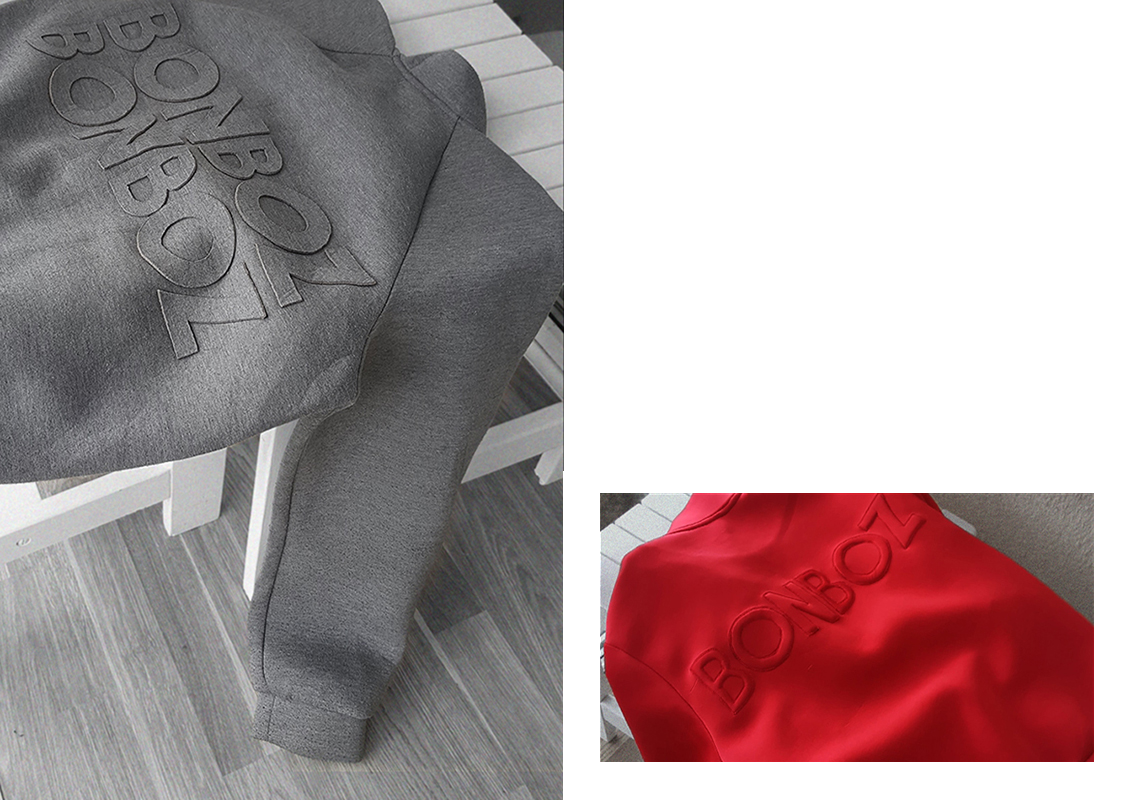 We have contacted and visited a few printing companies which were providing embossing services, but most of them rejected our request and did not even want to try as long as it was unknown material. Luckily, we negotiated with one company to give a try. 
With professional embossing equipment, we tried a few ways to achieve our idea, but neoprene material still resisted to embossing. The place where the press was embossing the detail quickly returned to the same position by leaving just slightly visible borders. Our partner implied that our idea is impossible and offered to choose another material. We knew in our minds that we just need to try more, so we negotiated to try it a different way and press with a special sticker on another side. We founded the way to make our design detail.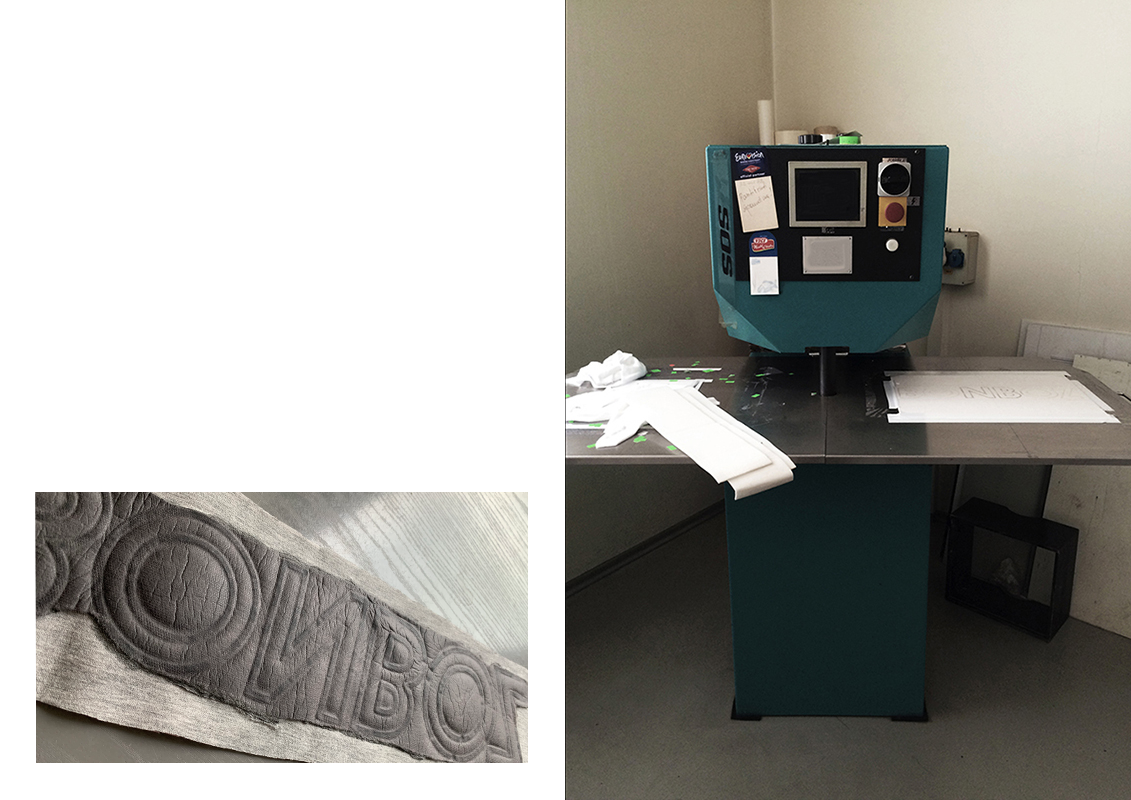 As long as on the jacket back we needed to add a special sticker to support embossing detail, we decided to add a lining for our hi-fidelity prototype and hide that part. We needed to test our prototype with different people to find out that neoprene's stitches are irritating and need to be hidden too. For our final product, we added full lining which made our jacket super soft to wear.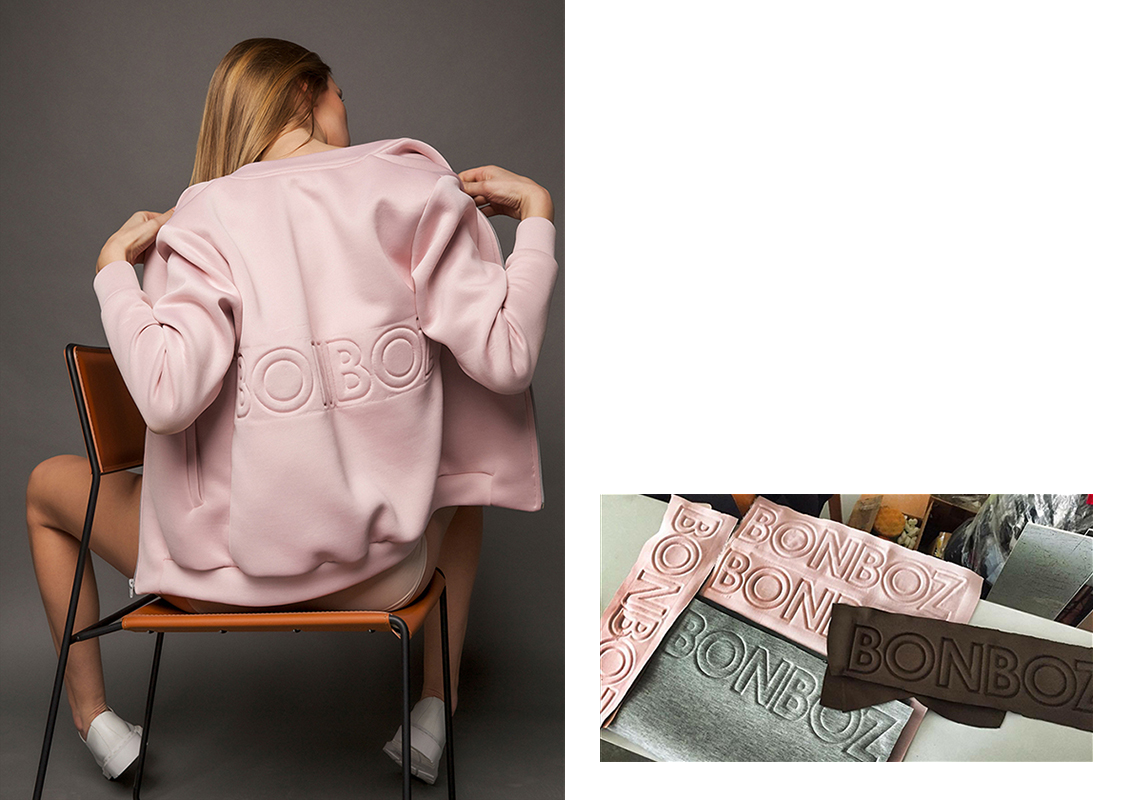 We collaborated with local sewing company, our printing partners and produce first Bonboz collection. We decided to add more colours to develop brand identity and diversity. For every colour, we set a different role.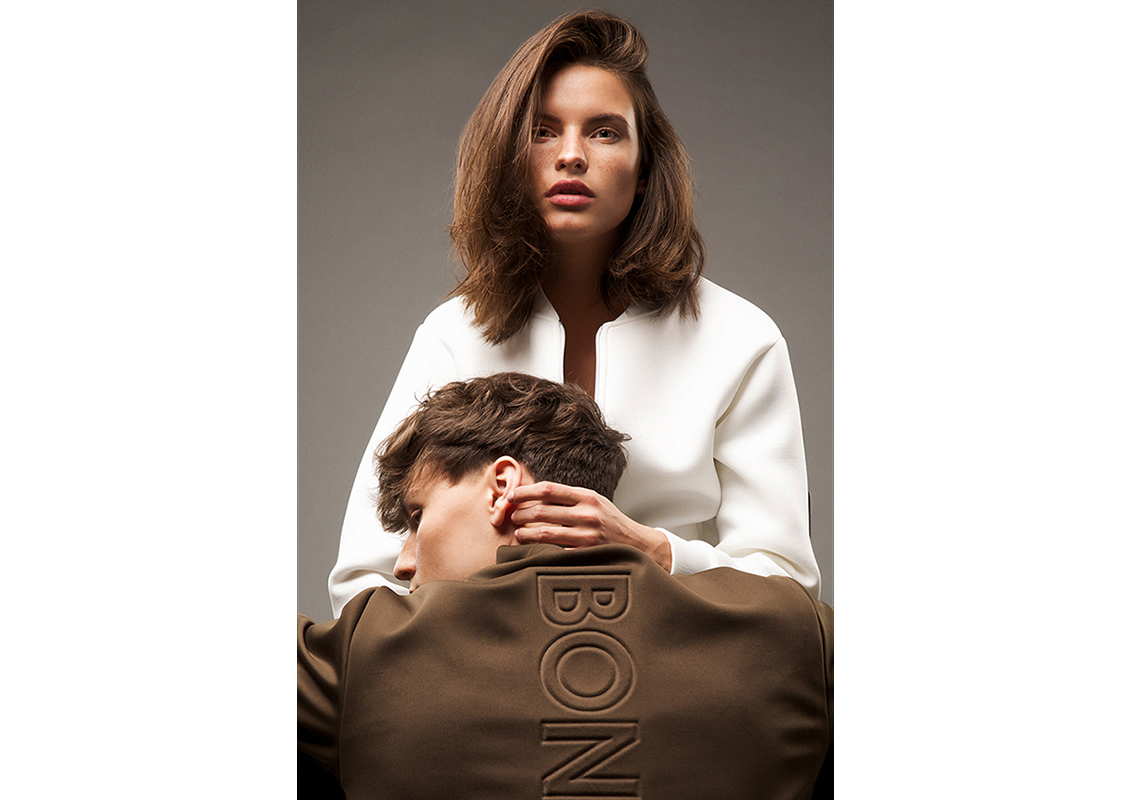 As it was my first physical product design project my key learnings are tremendous, however some of the biggest:
 • From my colleague I learned how not give up on your idea unless you tried all the ways to make it happen.
 • How to collaborate with different stakeholders, as well as constructively direct action within a team.   
 • How to translate design decisions to the team and reduce any ambiguity.
 • How to negotiate with different stakeholders to achieve the best results with the cheapest price in the quickest time possible.
 • How rapid usability testing helps to collaborate with a team to achieve the best results and remove risks. 
It was one of the most challenging moments in my life I am glad that we did not give up till we finally achieved our goal. While implementing UX design approach to our process we managed to produce the quality design.