SOLO project for the Dream Projects UX design competition, with a COVID-19 brief. The brief was open, asking for a solution to 'problems the world now faces'.
After some talks and personal challenges, I decided to focus on the well-being problem and decided to find the solution to encourage people to stay more active. Some extra research gave me an idea to build a solution based on positive competition.
I designed the Active Link app, where users would track their various activities to complete the challenges that their colleagues would encourage them to join.
The final result was achieved through a lot of iterations, testing and my decision to build a Design System based on FIBO design tools. The final prototype : 

bit.ly/3uPVt6M
Active link app was ranked as a runner up in the competition, but most importantly I found a way for you to stay more active and connected with your colleagues. 
The more detailed case study below:
Solo

project for the  Dream Projects UX design competition, with an COVID-19 brief. The brief was open, asking for a solution to 'problems the world now faces'.
I believe I found a solution which improves our well-being, as well as our ability to collaborate. This case study outlines how. I do hope you enjoy and welcome your feedback.
​​​​​​​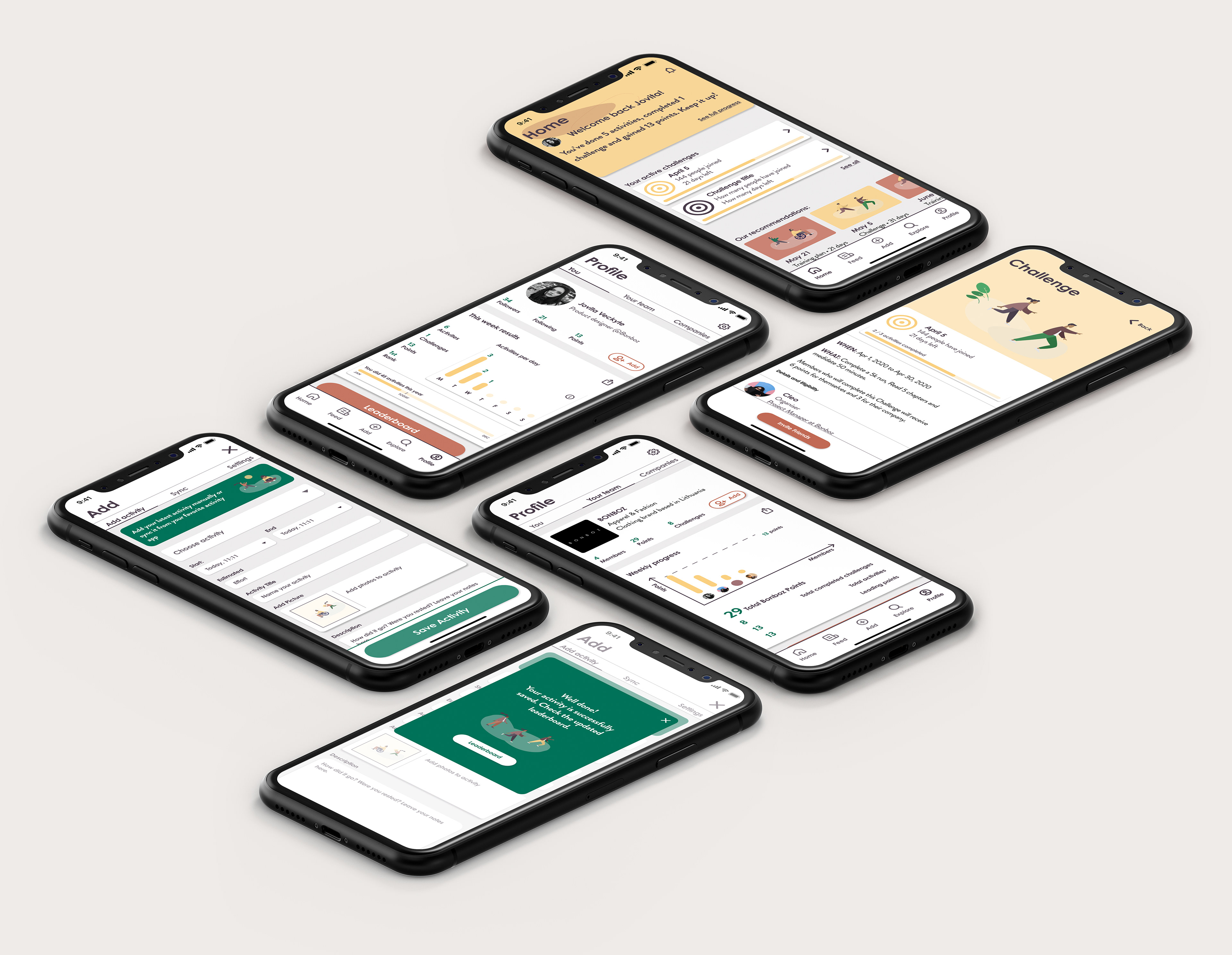 The city is under the lockdown, people working from home, gyms and all the public spaces closed. As we spend much more time at home our health faces huge challenges that make us physically and mentally vulnerable.
The more people I observed and the more I ran I came to the understanding that people would improve their well-being if they

stay more active. The

problem

I decided to tackle:
Knowledge workers need a better way to stay active while working from home and the city is under the lockdown.
I chose knowledge workers as my starting target audience as they are more likely working from home, but I hope my solution will serve more people within the time.
Looking for a better way to encourage people's activity, I returned to our very nature and started by researching the psychology of competition.
 • By very nature people are competitive and from many centuries before the competition has a seemingly powerful role in human society. 
 • It directly improves motivation and the presence of competition can increase physical effort.
• Competition has been scientifically proven to make you exercise up to 90% more. 
 • I believe that by implementing positive competition in workers daily life will achieve improvement in their well-being and collaboration.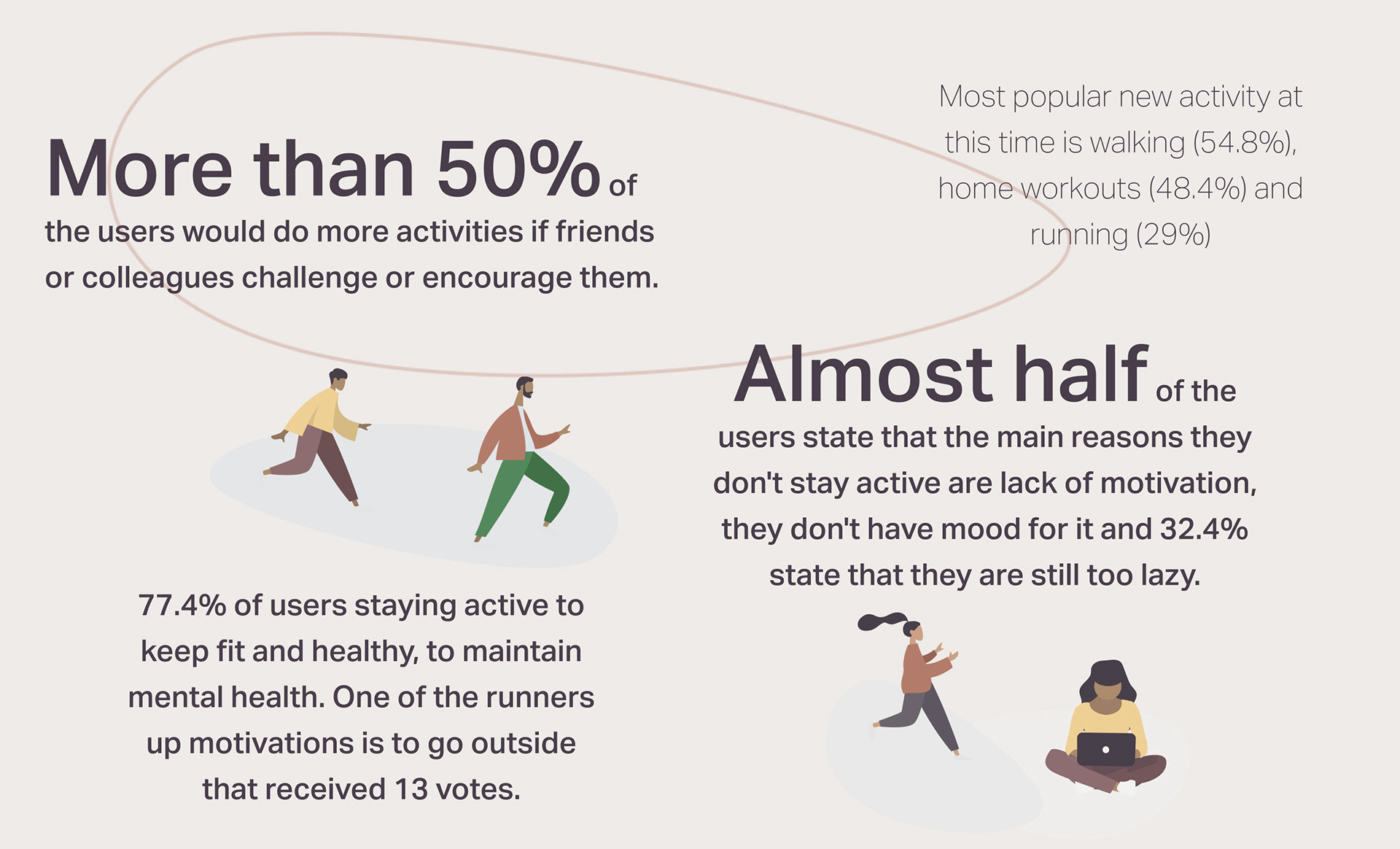 In the end, I came up with the idea to design a mobile app —

 

Active Link. In this app users would track their various activities to complete the challenges that their colleagues would encourage them to join.
The more challe

nges users would complete the more points they receive. The more points they receive the better they will be ranked in their team and eventually th

ey will be more active.
Implemented positive competition will allow users to stay more active and connected with their colleagues and friends.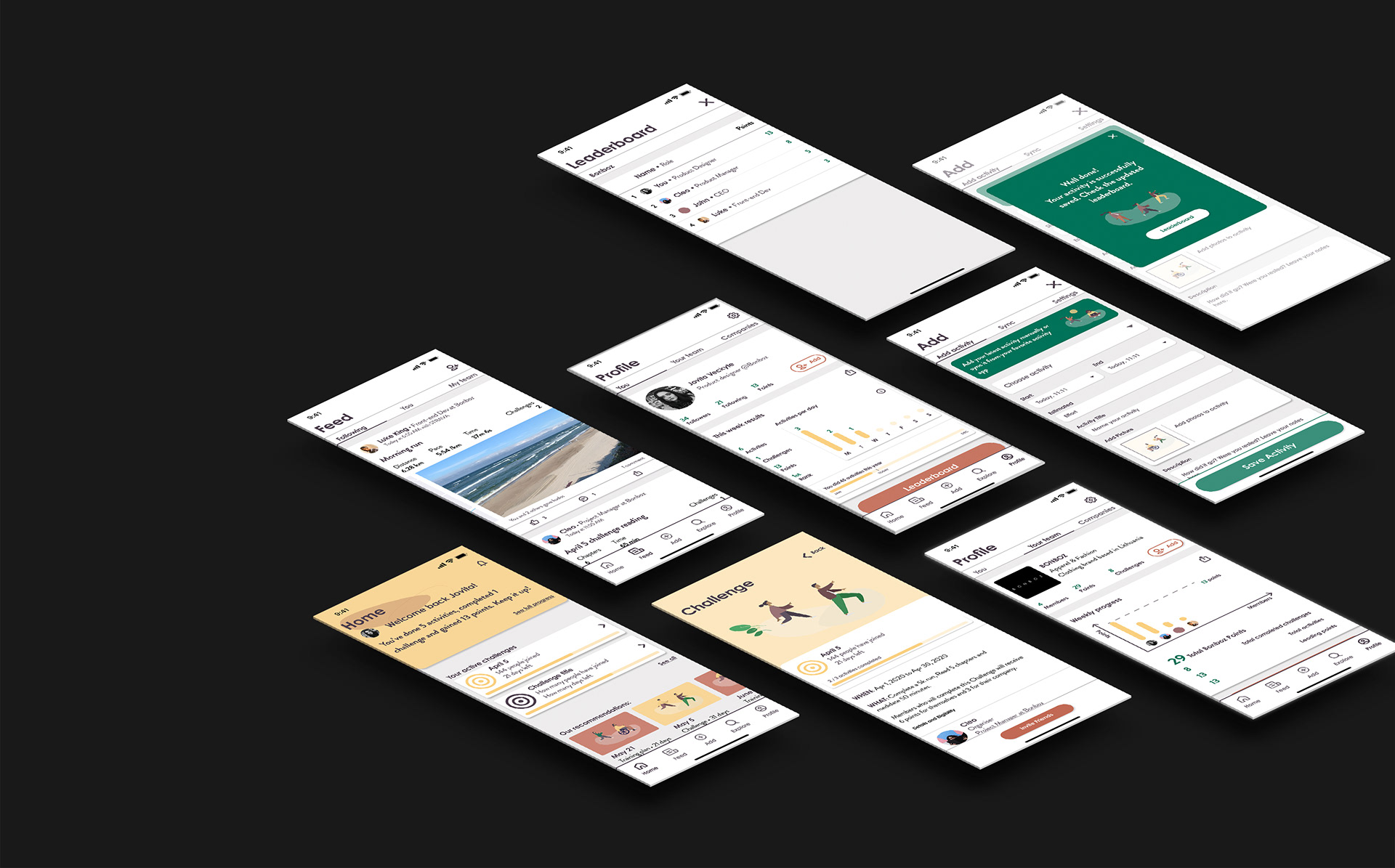 • When working from home I want to challenge my colleagues so I can stay active and connected with my team.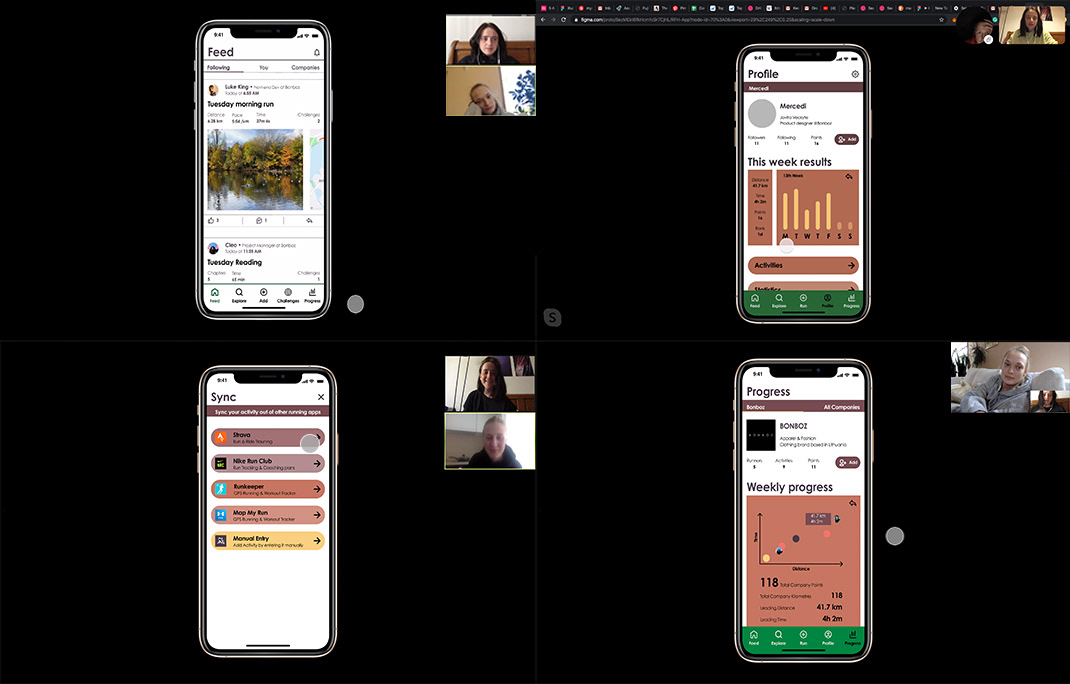 From the picture below you can notice that the first screen user would land on had many changes and I can admit that jumping on hi-fi prototype too soon lead me to many struggles. I even started to blame users for not understanding how to use the app. At this point, I created an app map which reminded me of the main user's goal and helped to reduce the steps users should take to reach the goal. // Full app map //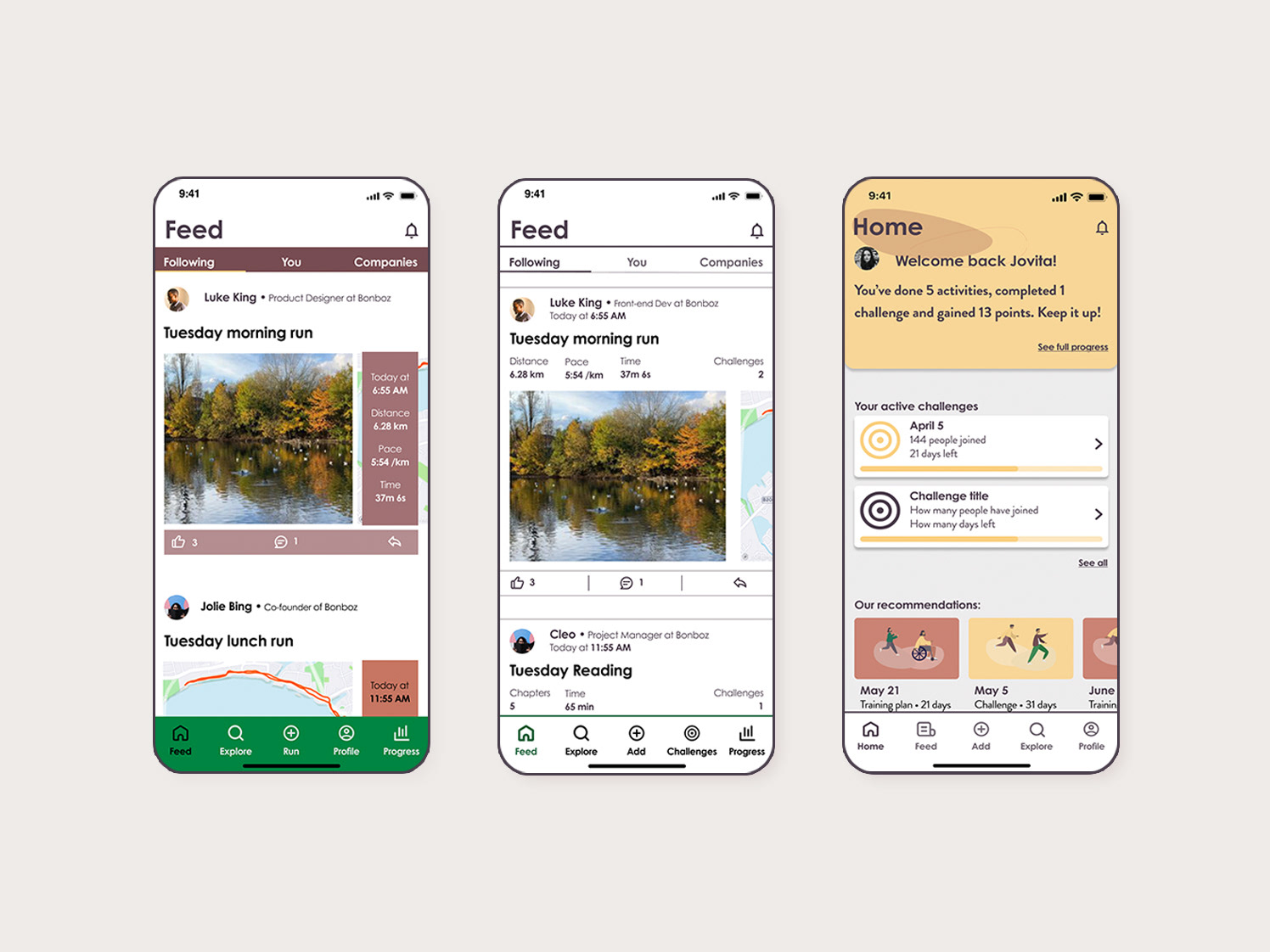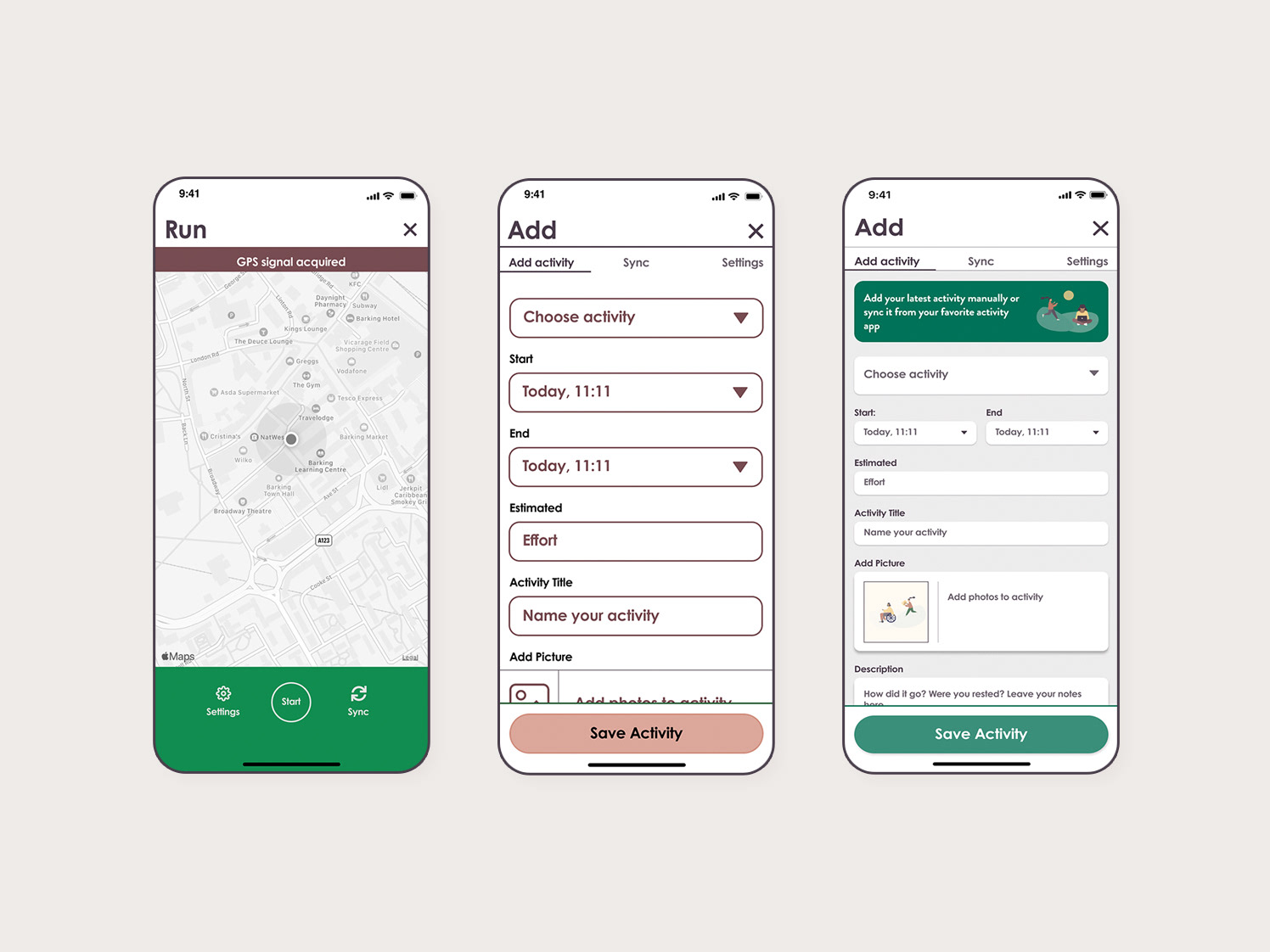 FIBO design tools helped me to create a system to work on and keep consistency throughout the design. 

As mentioned before the first release was done in a quick process and mostly based on assumptions, so it rather looked like a very colourful redesign of Strava app than the product encouraging the user to stay active. Key practices that helped me to improve the UI and efficiency of the app:
 • And of course that bunch feedback I managed to gather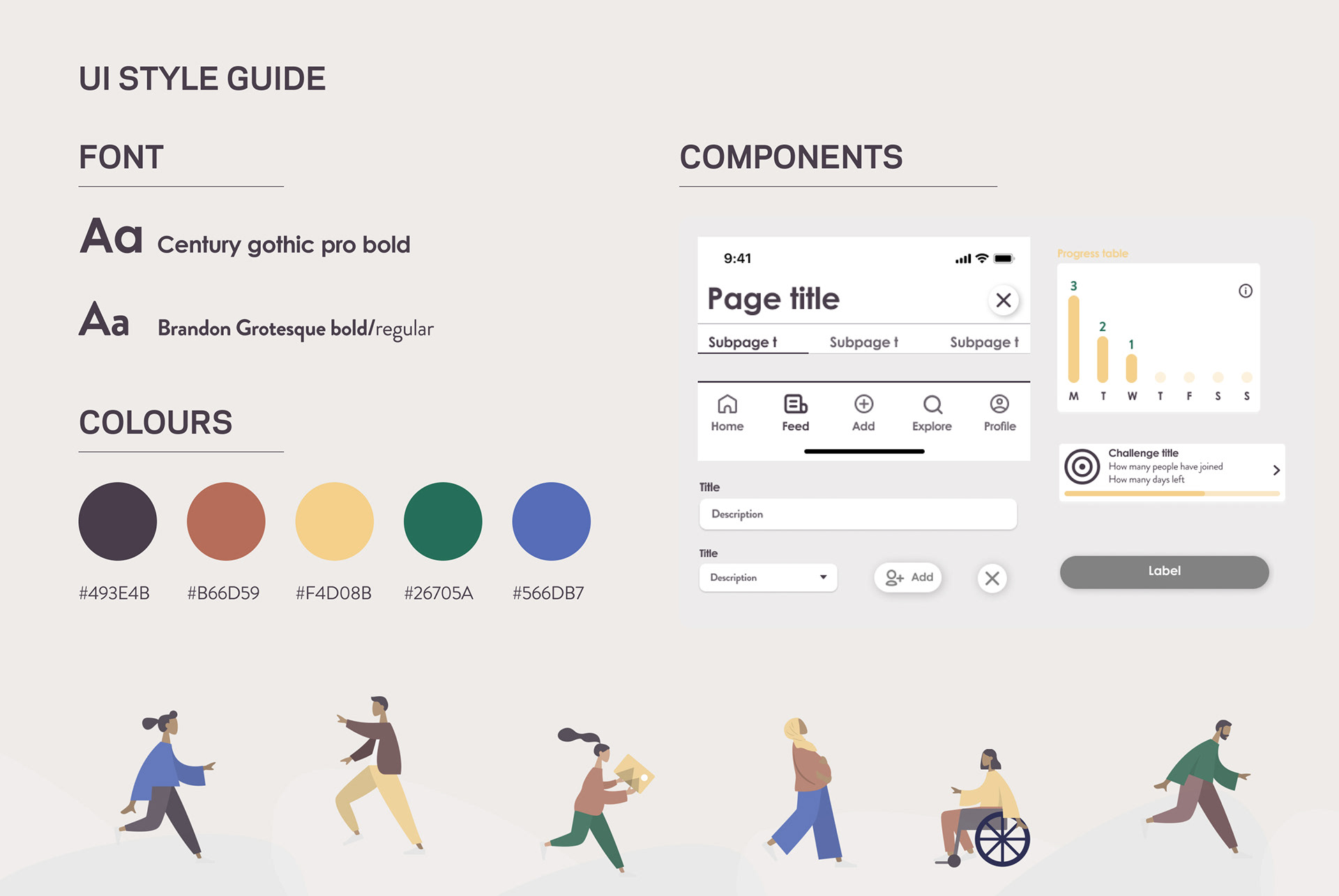 After finding out that I am one of the runners up in the competition and receiving more positive feedback on the idea, I am more than motivated to:
 • Find people to collaborate with to make it live
 • Test the product and the efficiency of the design
 • Start improving well-being and collaboration in your team
Based on the newest research and predictions on changes in the way we are going to work in the future, I confidently believe that the Active Link app could help the majority of workers even after the lockdown. In the long run, it could help Companies to maintain the culture, ensure workers well-being and improve collaboration.
By writing this story I have realised how much of effort I have put and how much I have learnt. That wouldn't have happened if not all of the feedback and help I have received. Big thanks to my mentors, friends and all of the other people that joined me in this ride. 
Let's stay active and connected!
p.s Do not hesitate to contact me if you would like to collaborate! :)
Beautiful illustrations — humaaans by Pablo Stanley,